Ment en calma: Tranquil·litat/Calm Mind: Tranquility/Mente en calma: Tranquilidad
Reflexió de la Setmana 7 de març de 2021
Ment en calma: Tranquil·litat
No t'aferris a res i observa. Al principi potser costi, perquè ens hem tornat addictes al batibull de preocupar-nos pel món, jutjar els que estan en ell i criticar el què "fer". Hem de recordar que són uns hàbits que ens roben la pau, fomenten la ira i ens fan perdre el temps i l'energia mental perquè no serveixen per a canviar res.
Aquesta forma desaferrada de contemplar el món exterior és una preparació per aprendre a observar la nostra consciència. És el que ens permet descobrir que també vivim en un altre món fet de pensaments, emocions, records i desitjos.
La meditació ens fa ser conscients del contingut del nostre subconscient i, al fer-ho, el neteja i l'ordena. De vegades, les escombraries dels pensaments i sentiments negatius que hi ha en ell vindrà sobre nosaltres com una allau i ens afectarà emocionalment durant una estona. Però si ens limitem a seguir observant-la, aquesta sensació desapareixerà. En altres ocasions lliscarà silenciosament com un tímid ratolí que s'amaga darrere les cortines.
De la mateixa manera, netejar i ordenar els vells armaris de casa, en què no sabem què trobarem, requereix temps i pràctica, amb els armaris interiors del nostre subconscient també passa el mateix. Tinguem paciència. Tinguem molta paciència. Recordeu que no hi ha cap escombraria en el nostre interior que sigui més poderosa que nosaltres. Quant l'observem amb el nostre ull interior, sense por, sense rebutjar-la, contemplant-simplement, desapareix.
Emergirà en la nostra consciència una sensació de tranquil·litat que també vol dir que la ment està en calma i a l'entrar en aquest estat també ens sentim renovats. En algunes ocasions aquesta sensació de tranquil·litat arribarà com una onada, en altres, ens demanarà que anem a seure en silenci mentre els que ens envolten estan xerrant animadament, O, fins i tot obrirà la nostra ment com si fos un oceà partint-se en dos i veurem i sentirem el poderós i profund que és.
Extracte de el llibre:
Transformar la ira en calma interior,
Claus per recuperar equilibri emocional,
Ed. ONIRO
Mike George
Week Reflection march 7, 2021
Calm Mind: Tranquility
Don't get attached to anything and observe. At first it may be difficult, because we have become addicted to the hubbub of caring about the world, judging those who are in it, and criticizing what "to do." We must remember that they are habits that rob us of peace, foster anger and waste time and mental energy because they do not serve to change anything.
This detached way of looking at the outside world is a preparation for learning to observe our consciousness. It is what allows us to discover that we also live in another world made of thoughts, emotions, memories and desires.
Meditation makes us aware of the content of our subconscious and, in doing so, cleanses and orders it. Sometimes the garbage of negative thoughts and feelings in it will wash over us like an avalanche and affect us emotionally for a while. But if we just keep observing it, this sensation will disappear. At other times it will glide silently like a shy little mouse hiding behind the curtains.
In the same way that cleaning and ordering the old closets at home, in which we do not know what we are going to find, requires time and practice, with the interior closets of our subconscious also the same thing happens. Let's be patient. Let's have a lot of patience. Remember that there is no garbage within us that is more powerful than we are. As soon as we observe it with our inner eye, without fear, without rejecting it, simply contemplating it, it disappears.
A sense of tranquility will emerge in our consciousness which also means that the mind is calm and as we enter this state we also feel renewed. On some occasions this feeling of tranquility will come as a wave, on others, it will ask us to sit in silence while those around us are chatting animatedly, or it will even open our mind as if it were an ocean splitting in two and we will see and we will feel how powerful and deep it is.
Excerpt from the book:
Transform anger into inner calm,
Keys to recovering emotional balance,
Ed. ONIRO
Mike george
Reflexión de la Semana 7 de marzo 2021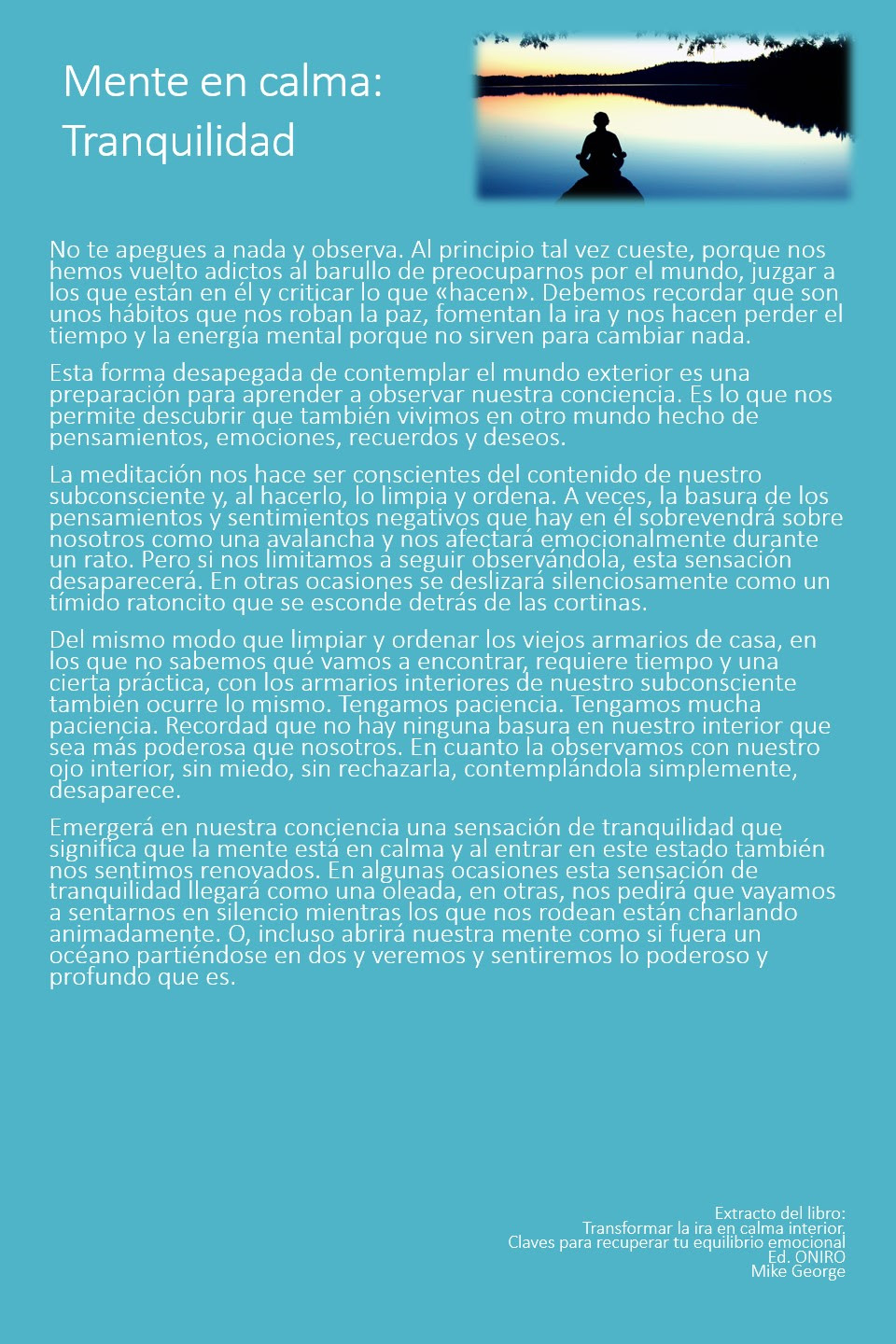 Copyright © 2016 Asociación Espiritual Mundial Brahma Kumaris
Diputación 329, bajos- 08009 Barcelona
T. 34 93 4877667 / 93 6764819 Web nacional: www.brahmakumaris.es
Web internacional: www.brahmakumaris.org
Blog: brahmakumarisbarcelona.blogspot.com.es
Facebook: www.facebook.com/brahmakumarisbarcelona