Com una flor a la calor del Sol/Like a flower in the heat of the Sun/Como una flor al calor del Sol
Reflexió de la Setmana  9 de gener de  2021    
Com una flor a la calor del Sol
Per a molts, la imatge negativa de Déu, com aquell que jutja i castiga, interfereix en la seva relació amb Ell. Molta gent tenen aquesta imatge negativa molt profunda, depenent de la seva tradició social i educació. Per tant, sovint, quan s'esmenta el nom de "Déu" hi ha un rebuig automàtic. En general, les reaccions negatives se centren al voltant de les paraules com "càstig", "infern", "penediment", "pecat". Necessitem tenir un nou enteniment, una nova imatge de Déu.
Si comencem a pensar positivament respecte a Déu, trobarem una nova relació amb Ell, una nova forma d'entesa d'aquest Ésser Suprem i amorós. Hem de començar a entendre Déu com un Ésser d'Eterna Bondat, que únicament posseeix qualitats positives. Ens caldrà allunyar-nos del passat, del que se'ns ha dit i particularment del que creiem saber.
Déu és el nostre Benamat Pare i Mare i ens dóna tota la fortalesa que requerim per superar els efectes dels errors. No obstant això, mentre no assumim la responsabilitat personal de examinar-nos i canviar, construïm una barrera inconscient en contra de l'amor de Déu: un amor que pot sanar-nos miraculosament.
Déu treballa per a la nostra felicitat: el nostre Pare és l'Oceà de Felicitat; el regal que Déu dóna com a Pare etern és el d'alliberar-nos del sofriment. Com a Mare, ens estima incondicionalment i ens perdona. L'amor ens dóna la fortalesa. Amb el suport de l'amor diví no tenim por dels errors ni la pressió de les expectatives.
En silenci podem crear, gradualment, una unió amorosa amb Déu. Quan li dediquem temps al silenci i a la reflexió comencem a sentir a Déu, com el Pare i la Mare, cada vegada més a prop. Hi ha tal dolçor en aquesta experiència que l'ànima comença a obrir-se com una flor a la calor de el Sol.
Extracte de el llibre:
El Punt Alfa,
Una mirada a Déu,
Ed. Brahma Kumaris
Anthony Strano
Week Reflection   January , 2021    
Like a flower in the heat of the Sun
For many, the negative image of God, as the one who judges and punishes, interferes in their relationship with Him. Many people have this very deep negative image, depending on their social tradition and education. Therefore, often when the name "God" is mentioned there is an automatic rejection. Negative reactions are usually centered around words like "punishment", "hell", "repentance", "sin". We need to have a new understanding, a new image of God.
If we begin to think positively about God, we will find a new relationship with Him, a new way of understanding this loving Supreme Being. We must begin to understand God as a Being of Eternal Goodness, who only possesses positive qualities. We will need to get away from the past, from what we have been told and particularly from what we think we know.
God is our Well-beloved Father and Mother and he gives us all the strength we need to overcome the effects of mistakes. However, whereas we do not take personal responsibility to examine and change ourselves, we build an unconscious barrier against God's love – a love that can miraculously heal us.
God works for our happiness: our Father is the Ocean of Happiness; the gift that God gives as Eternal Father is to free us from suffering. As a Mother, he loves us unconditionally and forgives us. Love gives us strength. With the support of divine love we are not afraid of mistakes or the pressure of expectations.
In silence we can gradually create a loving union with God. When we dedicate time to silence and reflection, we begin to feel God, as Father and Mother, closer and closer. There is such sweetness in this experience that the soul begins to open like a flower in the heat of the Sun.
Excerpt from the book:
The Alpha Point,
One look at God,
Ed. Brahma Kumaris
Anthony Strano
Reflexión de la Semana 9 de enero 2021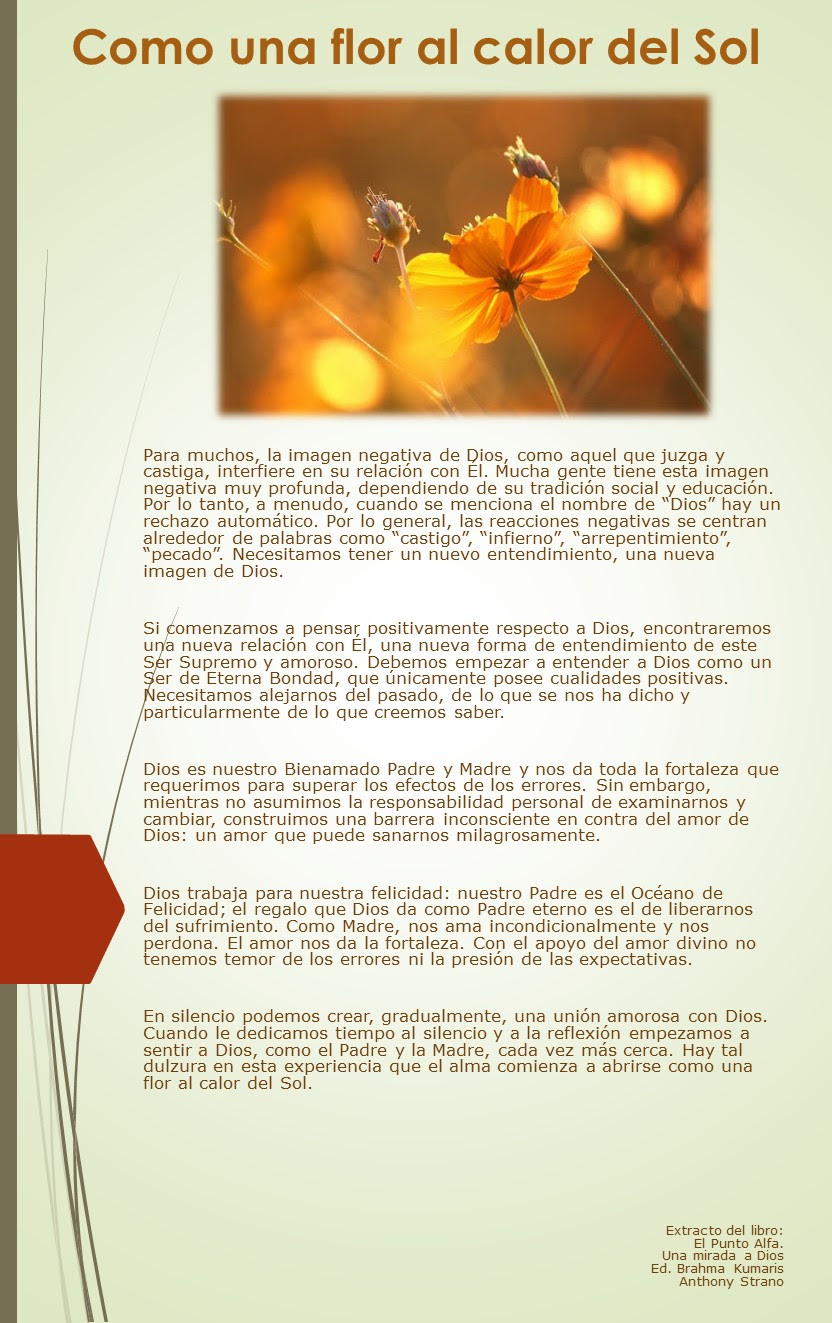 Copyright © 2016 Asociación Espiritual Mundial Brahma Kumaris
Diputación 329, bajos- 08009 Barcelona
T. 34 93 4877667 / 93 6764819 Web nacional:  www.brahmakumaris.es
Web internacional: www.brahmakumaris.org
Blog: brahmakumarisbarcelona.blogspot.com.es
Facebook: www.facebook.com/brahmakumarisbarcelona