Acceptar totes les escenes/To Accept all scenes/Aceptar todas las escenas
Reflexió de la Setmana  17 d'abril  de 2021    
Acceptar totes les escenes
El teu cos, la teva salut, les teves relacions i el món proporcionen gran varietat de situacions al teu davant. No et demanen permís. Poden canviar en qualsevol moment sense que tu puguis evitar-ho.
Encara no ha conclòs una crisi quan ja n'hi ha una altra que comença. Les calamitats naturals, els terratrèmols, les inundacions: totes elles vénen per si mateixes. No són el resultat de la crida d'algú, així com tampoc desapareixen a l'ordenar-els-ho.
Però, quin és l'estat de la ment abans que arribi la situació? Quan la ment és forta, les dificultats externes romanen a l'exterior, no em sacsegen en el meu interior ni em arrabassen la meva estabilitat. La ment està en pau, lliure de tristesa i de preocupació.
Quan posseeixo aquesta força, les situacions que comporten tristesa poden aparèixer, però no sento tristesa en el meu interior. Si llancen una pedra, no em colpejarà. Si algú m'insulta, cap problema!
El meu cap ha d'estar calmat i no reaccionar de forma instantània, ni tan sols rebutjar. Deixem que hi hagi una acceptació de l'escena. Aquesta acceptació és la que em fa sentir tranquil·la. Llavors els meus sentiments pacífics ajudaran a resoldre la situació. També sabré millor què he de fer o no.
Experimentar tristesa és un acte d'insensatesa. Recorda-bé, quan sents tristesa per alguna cosa, has d'entendre que et falta comprendre alguna cosa. Per què hauria de sentir tristesa? M'ajuda això a mi o als altres? Sentir-se trist o infeliç per alguna cosa, fins i tot estar de mal humor, és com posar una gota de verí en un flascó de nèctar; l'espatlla. No només s'emporta la pau, sinó que comporta infelicitat.
No és per això que jo sóc aquí! És bo que ràpidament pugui crear una atmosfera de gran felicitat i alegria al meu voltant.
Extracte de el llibre:
De dins a fora,
Viure, aprendre i estimar millor,
Ed. Brahma Kumaris
Dadi Janki
Week Reflection april 17, 2021    
To Accept all scenes
Your body, your health, your relationships and the world provide a great variety of situations before you. They don't ask for your permission. They can change at any time without your being able to prevent it.
A crisis has not yet ended when another is beginning. Natural calamities, earthquakes, floods – they all come by themselves. They are not the result of someone's call, nor do they disappear when it is ordered.
But, what is the state of mind before the situation arrives? When the mind is strong, external difficulties remain on the outside, they do not shake me inside or rob me of my stability. The mind is at peace, free from sadness and worry.
When I have this strength, situations that bring sadness can appear, but I do not feel sadness within me. If they throw a stone, it won't hit me. If someone insults me, no problem!
My head should be calm and not react instantly, not even reject. Let there be an acceptance of the scene. This acceptance is what makes me feel calm. Then my peaceful feelings will help resolve the situation. I will also know better what to do or not do.
Experiencing sadness is an act of senselessness. Remember it well, when you feel sad about something, you have to understand that you lack to understand something. Why should I feel sad? Does this help me or others? Feeling sad or unhappy about something, even being in a bad mood, is like putting a drop of poison in a vial of nectar; spoils it. It not only carry off peace, it brings unhappiness.
That's not what I'm here for! It is good that I can quickly create an atmosphere of great happiness and joy around me.
Excerpt from the book:
Inside out,
Live learn and love better,
Ed. Brahma Kumaris
Dadi Janki
Reflexión de la Semana 17 de abril 2021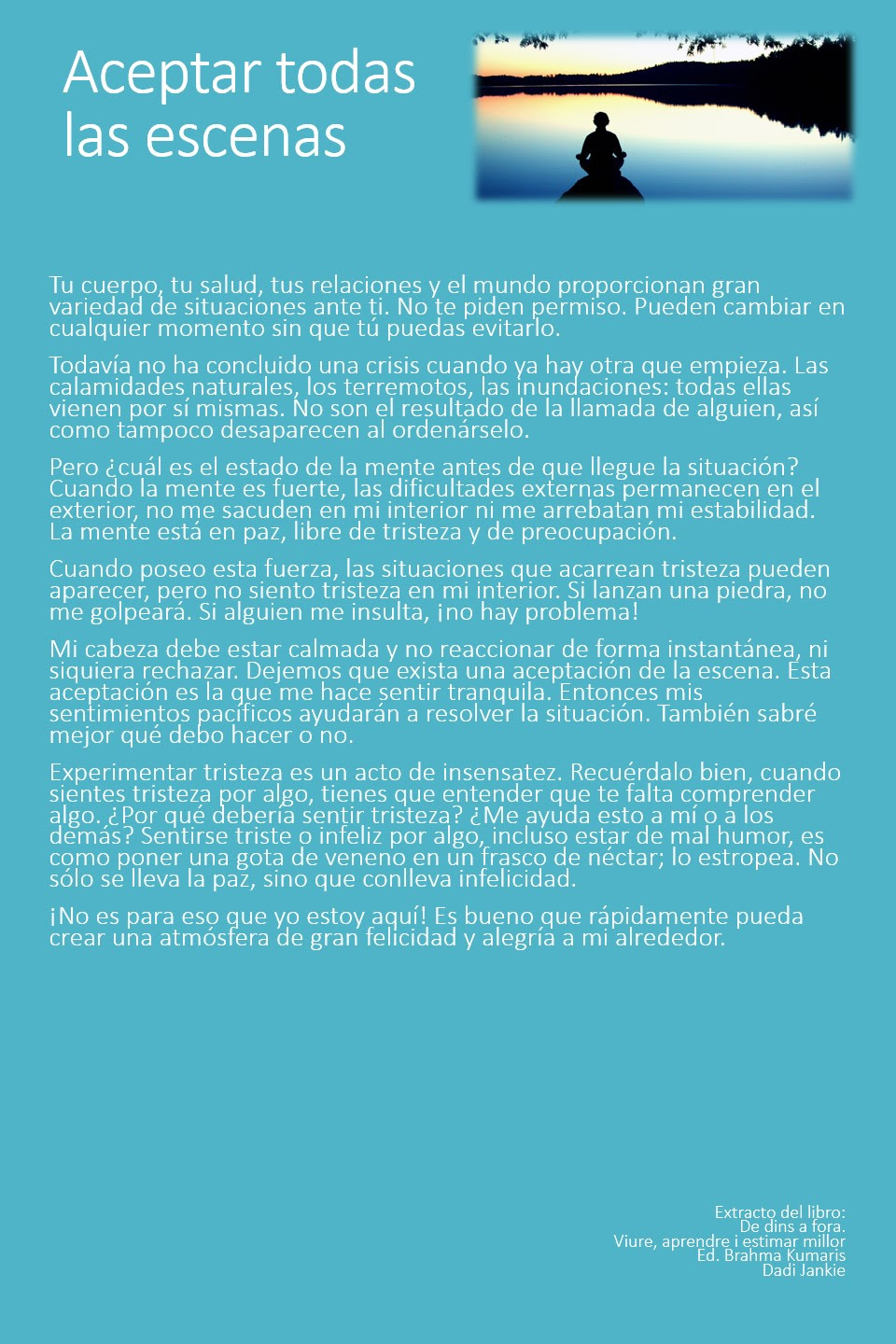 Copyright © 2016 Asociación Espiritual Mundial Brahma Kumaris
Diputación 329, bajos- 08009 Barcelona
T. 34 93 4877667 / 93 6764819 Web nacional:  www.brahmakumaris.es
Web internacional: www.brahmakumaris.org
Blog: brahmakumarisbarcelona.blogspot.com.es
Facebook: www.facebook.com/brahmakumarisbarcelona