L'autèntica felicitat/Authentic happiness/La auténtica felicidad
Reflexió de la Setmana  23 de gener de  2021    
L'autèntica felicitat
Gairebé tot el que fem i perseguim està motivat per la recerca de la felicitat. No obstant això, sembla que ningú ha pogut explicar-nos encara què és exactament la felicitat o com podem experimentar-la. Com a resultat d'això, ha estat confosa amb molts altres sentiments, s'ha vist entelada per moltes promeses falses i s'ha perdut entre moltes altres il·lusions.
La felicitat és un estat de l'ésser, però és difícil descriure-la amb precisió perquè és un estat que "sents", i el significat de les paraules que utilitzem per a cada sentiment és diferent depenent de la persona.
L'autèntica felicitat implica una satisfacció que surt de forma natural, quan no hi ha res ni ningú que pugui molestar-te, únicament possible quan ja no "vols" res ni a ningú, simplement perquè has entès que ja no "necessites" que res ni ningú " et facin ".., ¡feliç !; quan pots acceptar a tothom i a totes les coses tal com són, sempre, en tot lloc i en tot moment. No és que estiguis d'acord amb tot, simplement hi ha una serena acceptació que tot passa com ha de succeir.
L'autèntica felicitat implica una alegria que sorgeix naturalment d'allò més profund de l'interior quan estàs en el procés d'incorporar la teva veritable naturalesa, el teu veritable estat pacífic i amorós al món, per mitjà de les teves intencions, pensaments, actituds, comportaments; les principals formes en què tots creem, simplement estant vius.
L'autèntica felicitat implica una goig que emergeix, amb naturalitat, quan em sento lliure per dins, quan em delecto en el vol de l'ésser mentre transito per la vida.
Extracte de el llibre:
El sistema immunitari de l'ànima,
Com alliberar al teu ser de tot tipus de malalties,
Ed. GAVISUS
Mike George
Week Reflection  january 23,  2021    
Authentic happiness
Almost everything we do and pursue is motivated by the pursuit of happiness. However, apparently no one has yet been able to explain to us what exactly happiness is or how we can experience it. As a result, it has been confused with many other feelings, clouded by many false promises, and lost among many other illusions.
Happiness is a state of being, but it is difficult to describe it precisely because it is a state that you "feel", and the meaning of the words we use for each feeling is different depending on the person.
Authentic happiness implies a satisfaction that comes naturally, when there is nothing or no one that can bother you, only possible when you no longer "wish" anything or anyone, simply because you have understood that you no longer "need" anything or anyone " for make you ".., happy !; when you can accept everyone and all things as they are, always, in all places and at all times. It's not that you agree with everything, there is simply a calm acceptance that everything happens as it should.
Authentic happiness implies a joy that arises naturally from deep within when you are in the process of incorporating your true nature, your true peaceful and loving state into the world, through your intentions, thoughts, attitudes, behaviors; the main ways we all create, just by being alive.
Authentic happiness implies a bliss that emerges, naturally, when I feel free inside, when I delight in the flight of being as I travel through life.
Excerpt from the book:
The immune system of the soul,
How to free your being from all kinds of diseases,
Ed. GAVISUS
Mike george
Reflexión de la Semana 23 de enero 2021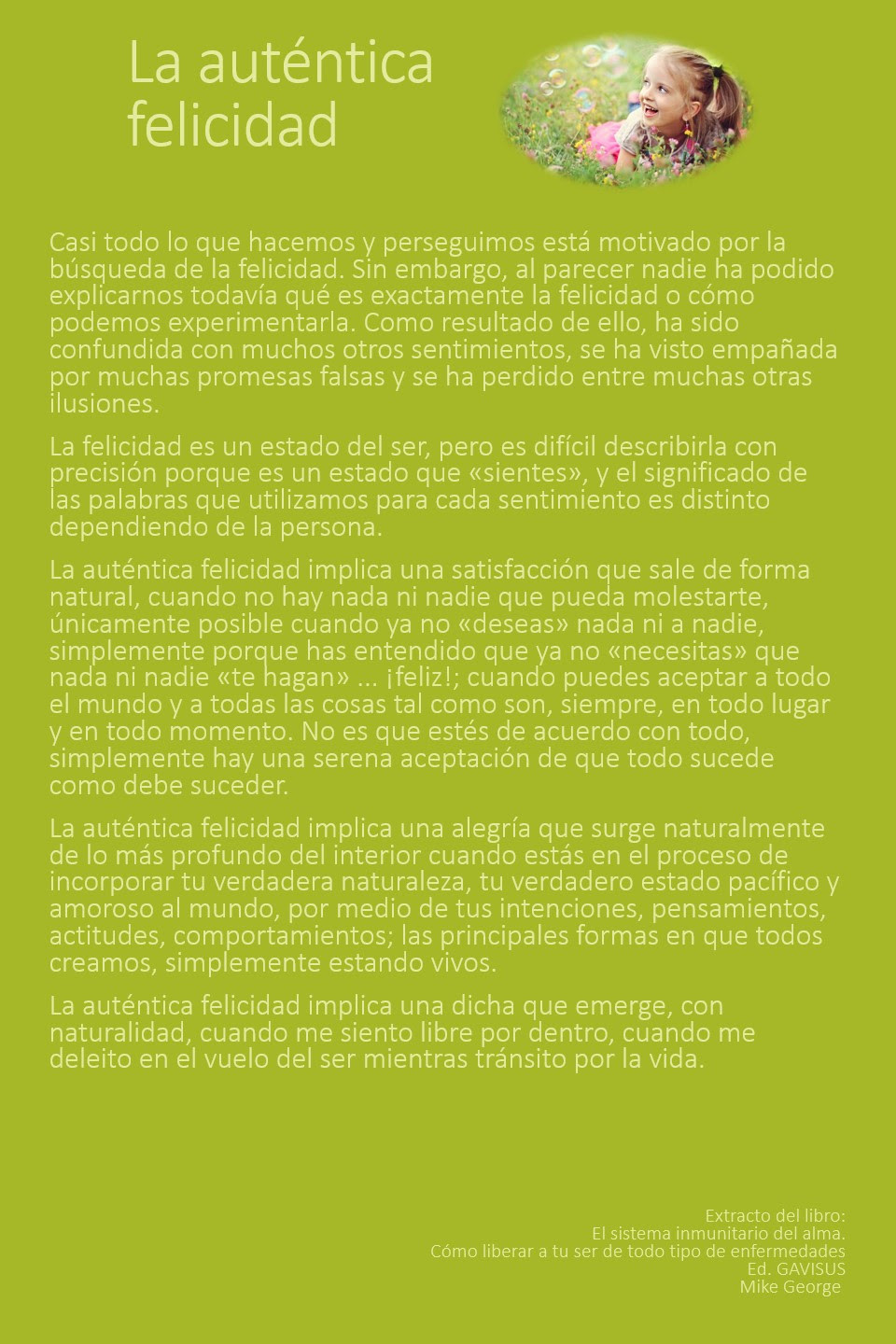 Copyright © 2016 Asociación Espiritual Mundial Brahma Kumaris
Diputación 329, bajos- 08009 Barcelona
T. 34 93 4877667 / 93 6764819 Web nacional:  www.brahmakumaris.es
Web internacional: www.brahmakumaris.org
Blog: brahmakumarisbarcelona.blogspot.com.es
Facebook: www.facebook.com/brahmakumarisbarcelona