Una vida natural/A natural life/Una vida natural
Reflexió de la Setmana 20 de febrer de 2021
Una vida natural; una vida sense emocions
Pau és el que ets per naturalesa, amor és el que s'irradia de tu naturalment i felicitat, sota la forma d'aquesta, és el que sents quan no hi ha afeccions que bloquegin o distorsionin la teva naturalesa radiant.
Són els constituents o estats essencials de tu i mai te'ls podran treure. Tu decideixes i tries quin estat crear, en quin estat estar, però saboteges aquesta elecció a l'apegar-te i, per tant, distorsionar la teva energia en emocions com por, enuig i tristesa, i els seves múltiple formes i facetes.
De la pau, l'amor i la felicitat, de vegades es diu que són la teva herència. Però, certament, no els heretes perquè no pots heretar alguna cosa que ja hi és. Si simplement recordes qui i què ets, i deixes d'identificar-te amb alguna cosa que no ets, seràs naturalment capaç de crear i sentir aquests estats un cop i un altre. Tornaràs a ser lliure de triar plenament les teves sensacions.
Fixa't que, quan estàs en pau, no estàs agitat, així que no hi ha emoció. Quan estàs en pau, en la teva pau, sents pau.
Nota que quan ets amor, quan dónes del teu jo sense pretendre res a canvi, ho hi ha agitació, no hi ha emoció, només el moviment sense esforç que va de la intenció a l'acció de donar, lliure d'expectatives (afecció). I quan dónes amb amor, (et) sents amor(ós).
I quan estàs genuïnament feliç, estàs content i somrius amb un serè goig. La teva energia de vida, que ets tu, flueix cap al món que t'envolta sense estimulació ni agitació; no hi ha emoció. I, mentre irradies la teva pròpia versió personal de la satisfacció i la felicitat, fixa't què sents. Et sents satisfet i feliç. Sense agitació. Sense emoció.
Però va passar tant de temps des que vam estar sense emocions, fa tant de temps que ens hem tornat addictes a la nostra agitació, que resulta difícil imaginar -i molt més sentir- que la vida sense emocions és més natural i veritable que la vida com a muntanya russa emocional.
Extracte de el llibre:
Els 7 Mites del… veritable AMOR !,
Un viatge des de la ment fins al cor de l'ànima,
Ed. Kier
Mike George
Week Reflection february 20, 2021
A natural life; a life without emotions
Peace is what you are by nature, love is what radiates from you naturally, and happiness, in the form of bliss, is what you feel when there are no attachments blocking or distorting your radiant nature.
They are the essential constituents or states of you and can never be taken away from you. You decide and choose what state to create, what state to be in, but you sabotage that choice by clinging to and thereby distorting your energy into emotions such as fear, anger and sadness, and their many forms and facets.
Peace, love and happiness are sometimes said to be your inheritance. But, in truth, you don't inherit them because you can't inherit something that's already there. If you simply remember who and what you are, and stop identifying with something that you are not, you will naturally be able to create and feel these states over and over again. You will once again be free to fully choose your sensations.
Note that when you are at peace, you are not agitated, so there is no emotion. When you are at peace, in your peace, you feel peace.
Note that when you are love, when you give of your self without wanting anything in return, there is no agitation, there is no emotion, only the effortless movement that goes from intention to action of giving, free of expectations (attachment). And when you give with love, (you) feel love (bear).
And when you are genuinely happy, you are content and smile with serene bliss. Your life energy, which is you, flows into the world around you without stimulation or agitation; there is no emotion. And, as you radiate your own personal version of satisfaction and bliss, notice how you feel. You feel satisfied and blissful. No agitation. Without emotion.
But it has been so long since we were emotionless, so long ago that we have become addicted to our agitation, that it is difficult to imagine – and much more to feel – that life without emotions is more natural and true than life as an emotional roller coaster.
Excerpt from the book:
The 7 Myths of … true LOVE!,
A journey from the mind to the heart of the soul,
Ed. Kier
Mike george
Reflexión de la Semana 20 de febrero 2021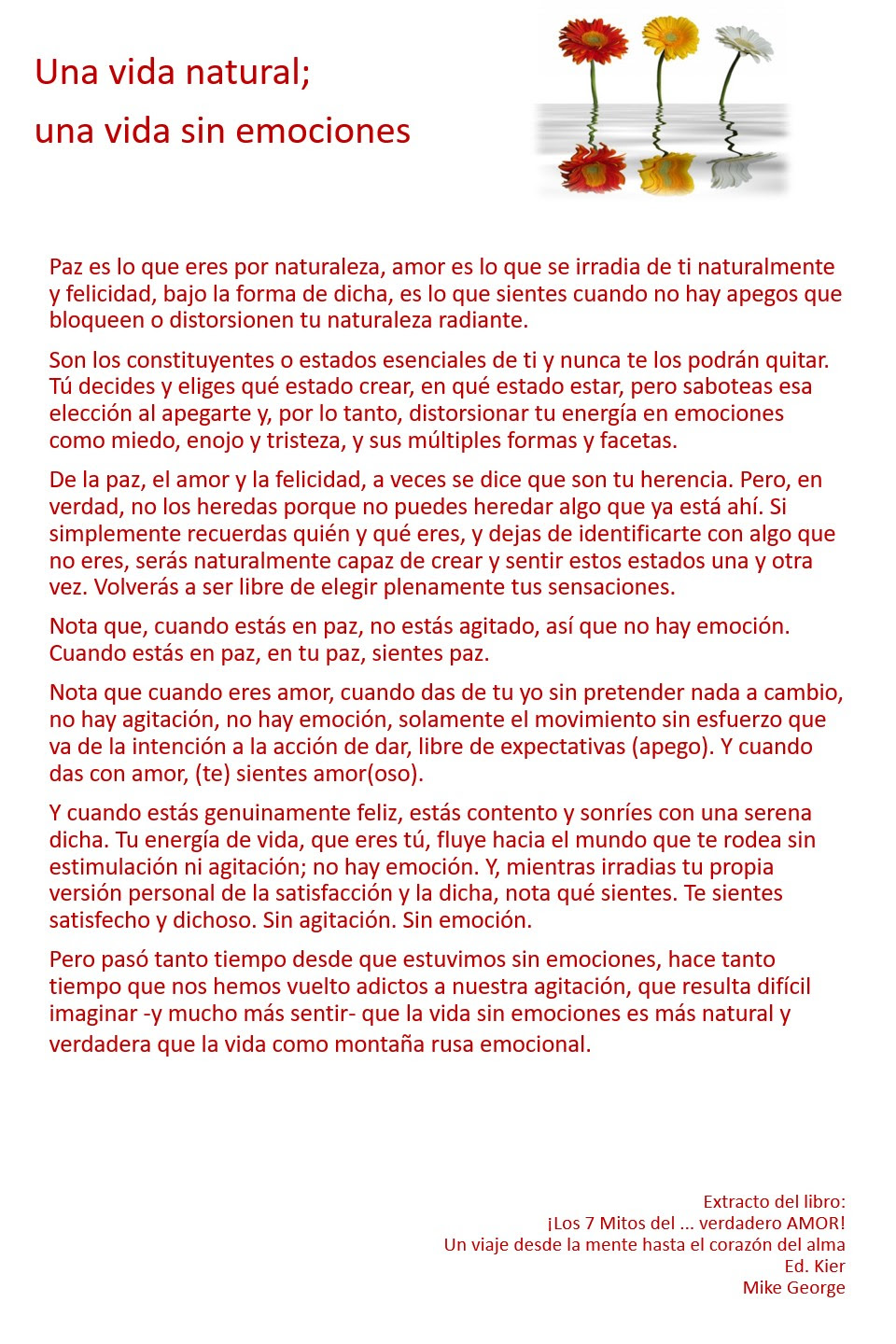 Copyright © 2016 Asociación Espiritual Mundial Brahma Kumaris
Diputación 329, bajos- 08009 Barcelona
T. 34 93 4877667 / 93 6764819 Web nacional: www.brahmakumaris.es
Web internacional: www.brahmakumaris.org
Blog: brahmakumarisbarcelona.blogspot.com.es
Facebook: www.facebook.com/brahmakumarisbarcelona