Construint un nou ésser/Building a new being/Contruyendo un nuevo ser
Reflexió de la Setmana  26 de juny  de 2021    
Construint un nou ésser
Per sentir-se bé, cal entendre que la nostra característica fonamental és la pau. Sempre ho ha estat i sempre ho serà. Per desgràcia, les exigències, els compromisos, les obligacions i les responsabilitats del dia a dia ens limiten i ocupen un lloc tan prominent en la consciència que no ens sobra temps per donar credibilitat al potencial de ser pacífic.
L'ésser posseeix ales i vol volar. De vegades aconsegueix batre-les per alçar el vol, però potser no tingui prou seguretat per, a l'abandonar la seva branca, romandre volant de veritat sense caure.
Què passaria si un ocell batés les ales, però les urpes no es deixessin anar de la branca en la qual es troba? No volaria i només es cansaria. El cansament i la frustració caracteritzen l'estat de la persona que no té fe en la seva pròpia capacitat de volar lliurement i per damunt de tots els obstacles. Es manté agafada a les branques de l'afecció que generen una il·lusió de seguretat.
Hi ha una frase popular per ajudar a algú: "fer-lo sortir del niu". Però ¿qui pot fer sortir del niu al "jo" per deixar-ho volar? Només el "jo".
El primer pas consisteix a aprendre a valorar les característiques de la teva personalitat que podrien conferir-te una seguretat real, independent de bastons i de branques. El segon, consisteix a comprendre que els defectes i les febleses formen part d'un estat de consciència que ja no atreus; no cal que siguis feble.
Quan algú està construint una casa nova, tot el seu amor i esperança es dirigeixen a la nova llar; la vella s'oblida ràpidament. Veient l'estructura de construcció del nou ésser tot interès es dirigeix ​​al futur i el passat ja no té força per fer-te enrere.
Extracte de el llibre:
La pau comença amb tu,
Exercicis de pau per enfrontar les crisis,
Ed. Brahma Kumaris
Ken O'Donnell
Week Reflection june 26,  2021    
Building a new being
To feel good, you have to understand that our fundamental characteristic is peace. It always has been and always will be. Unfortunately, the demands, commitments, obligations and responsibilities of everyday life limit us and occupy such a prominent place in our consciousness that we do not have time to believe the potential for being peaceful.
The being has wings and wants to fly. Sometimes he manages to flap them to take flight, but perhaps he is not confident enough to, by abandoning his branch, stay truly flying without falling.
What would happen if a bird flapped its wings, but the claws were not released from the branch it is on? It wouldn't fly and it would just get tired. Tiredness and frustration characterize the state of the person who does not have faith in his own ability to fly freely and over all obstacles. He holds onto the branches of attachment that create an illusion of security.
There is a popular phrase to help someone: "get him out of the nest." But who can make "I" come out of the nest to let it fly? Only the "me".
The first step is to learn to value the characteristics of your personality that could give you real security, independent of sticks and branches. The second is to understand that defects and weaknesses are part of a state of consciousness that you no longer attract; you don't have to be weak.
When someone is building a new house, all his love and hope goes to the new home; the old house quickly forgets. Seeing the construction structure of the new being, all interest is directed to the future and the past no longer has the strength to push you back.
Excerpt from the book:
Peace begins with you,
Peace exercises to face crises,
Ed. Brahma Kumaris
Ken o'donnell
Reflexión de la Semana 26 de junio 2021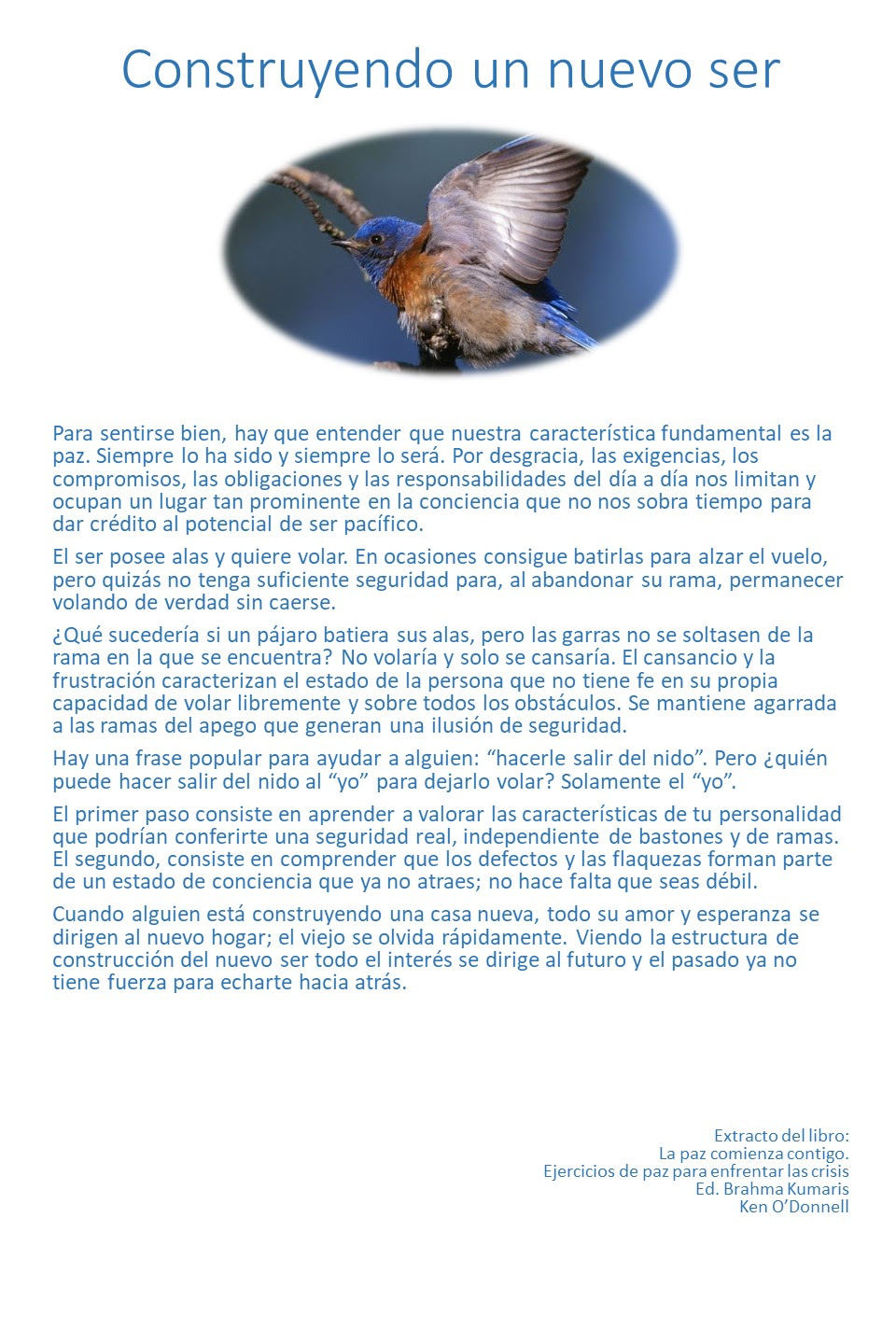 Copyright © 2016 Asociación Espiritual Mundial Brahma Kumaris
Diputación 329, bajos- 08009 Barcelona
T. 34 93 4877667 / 93 6764819 Web nacional:  www.brahmakumaris.es
Web internacional: www.brahmakumaris.org
Blog: brahmakumarisbarcelona.blogspot.com.es
Facebook: www.facebook.com/brahmakumarisbarcelona