Alleujant càrregues/Easing burdens/Aliviando cargas
Reflexió de la Setmana 27 de febrer de 2021
Alleujant les nostres càrregues
Cal molt de coratge per ser honest. Una de les qualitats més nobles d'una persona és la capacitat de dir: "Ho sento. Estava equivocat i tu tenies raó".
De fet, el que importa no és tenir raó, esgrimir arguments contundents o aconseguir que acceptin les meves idees.
El que realment importa és ser capaç de reconèixer els meus errors, fer-me responsable d'ells, aprendre la lliçó i seguir endavant amb major grau de maduresa, de manera lleugera.
Una de les millors maneres de mantenir-se lleuger, fins i tot enmig de el caos i l'excés de responsabilitats, és estar en comunicació amb Déu.
Al conversar amb Déu, quines responsabilitats són il·limitades i compartir amb Ell/Ella les trivialitats que us esgoten, adquirim una visió més amena de la vida.
Es requereix certa calma mental per sentir els Seus consells, però amb una mica de pràctica aprenem a veure les nostres petites preocupacions des de la Seva perspectiva.
Atès que El seu esperit irradia llum i amor, el sol fet d'obrir-Li la nostra ànima ens alleuja de les nostres càrregues.
Extracte de el llibre:
Llibre de les Virtuts,
Ed. Brahma Kumaris
Dadi Janki
Week Reflection february 27, 2021
Easing our burdens
It takes a lot of courage to be honest. One of the noblest qualities of a person is the ability to say, "I'm sorry. I was wrong and you were right."
In fact, what matters is not, being right, making strong arguments or getting my ideas accepted.
What really matters is being able to recognize my mistakes, take responsibility for them, learn the lesson and move on with a greater degree of maturity, in a light way.
One of the best ways to stay light, even in the midst of chaos and excess responsibilities, is to be in communication with God.
By conversing with God, whose responsibilities are unlimited and sharing with Him / Her the trivialities that exhaust you, we acquire a more enjoyable vision of life.
It takes some calm of mind to hear His advice, but with a little practice we learn to see our little concerns from His perspective.
Since His spirit radiates light and love, just opening up Him to our soul relieves us of our burdens.
Excerpt from the book:
Book of Virtues,
Ed. Brahma Kumaris
Dadi janki
Reflexión de la Semana 27 de febrero 2021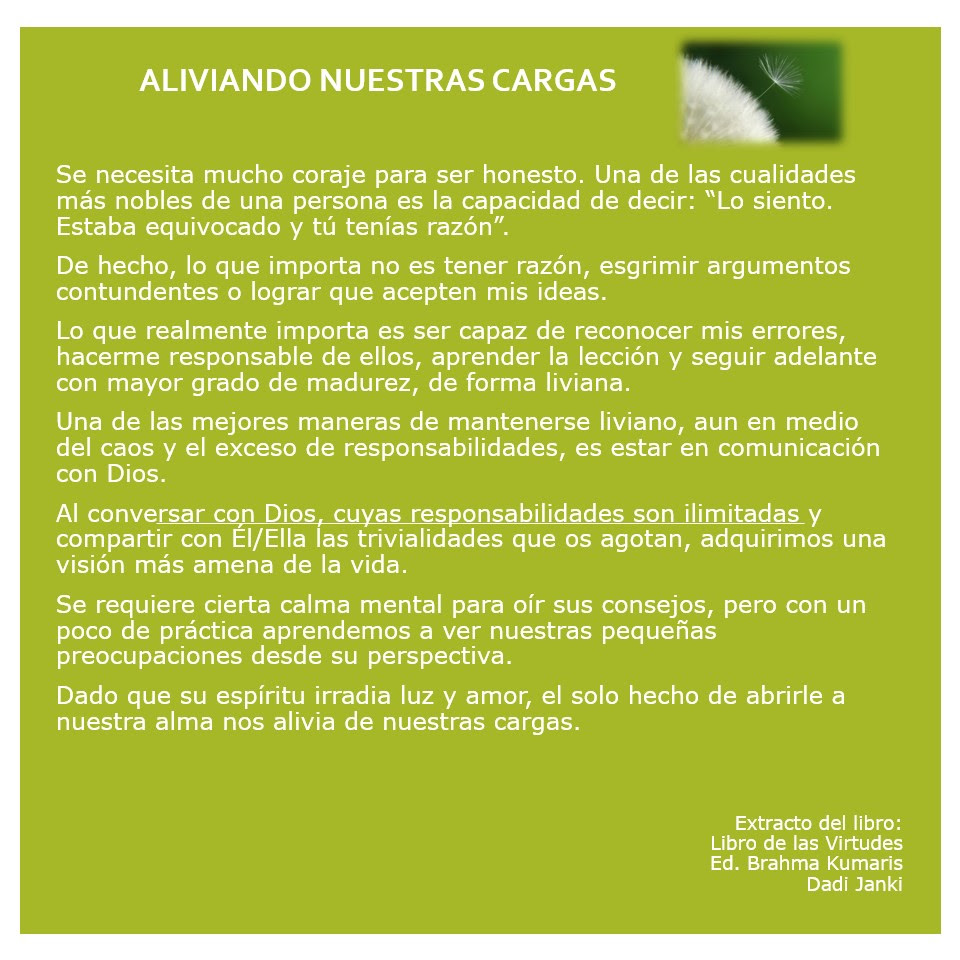 Copyright © 2016 Asociación Espiritual Mundial Brahma Kumaris
Diputación 329, bajos- 08009 Barcelona
T. 34 93 4877667 / 93 6764819 Web nacional: www.brahmakumaris.es
Web internacional: www.brahmakumaris.org
Blog: brahmakumarisbarcelona.blogspot.com.es
Facebook: www.facebook.com/brahmakumarisbarcelona